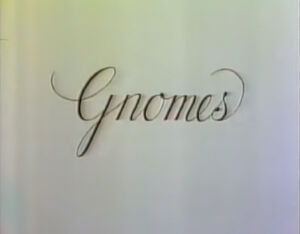 Gnomes is a 1980 animated film based on the book Gnomes by Wil Huygen and Rien Poortvliet. It was nominated for an Emmy in 1981 for Outstanding Animated Program. It was written by Sam Moore and Maurice Rapf.
Summary
A gnome family prepares for the wedding of their oldest son. They engage in a battle of wits with a vicious troll family.
Cast
Ad blocker interference detected!
Wikia is a free-to-use site that makes money from advertising. We have a modified experience for viewers using ad blockers

Wikia is not accessible if you've made further modifications. Remove the custom ad blocker rule(s) and the page will load as expected.